Ability Garden Growing in 2017
The Ability Garden is closing 2017 with a flurry of activity!
We have fully implemented a year-round school gardening curriculum at Lake Forest Academy that includes a self-assessment survey for the students. This gives us an opportunity to document the impact of the curriculum and look for methods to improve.
Our groups at the New Hanover County Arboretum are busy propagating beautiful plants. We have 3 plant sales left this year; November 18th, December 2nd, and December 16th, details are on our Ability Garden web-site and Facebook page.
Poinsettia pre-orders are due November 14th, and they will also be for sale at the December 2nd plant sale.
Don't need any more plants? Consider becoming an Ability Garden Angel with an tax deductible end of the year donation.
Thank you for helping the Ability Garden mark 18 years!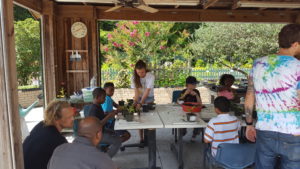 Lake Forest Academy in summer session with the Ability Garden!