8th Annual New Hanover Co. 4-H Wreath Sale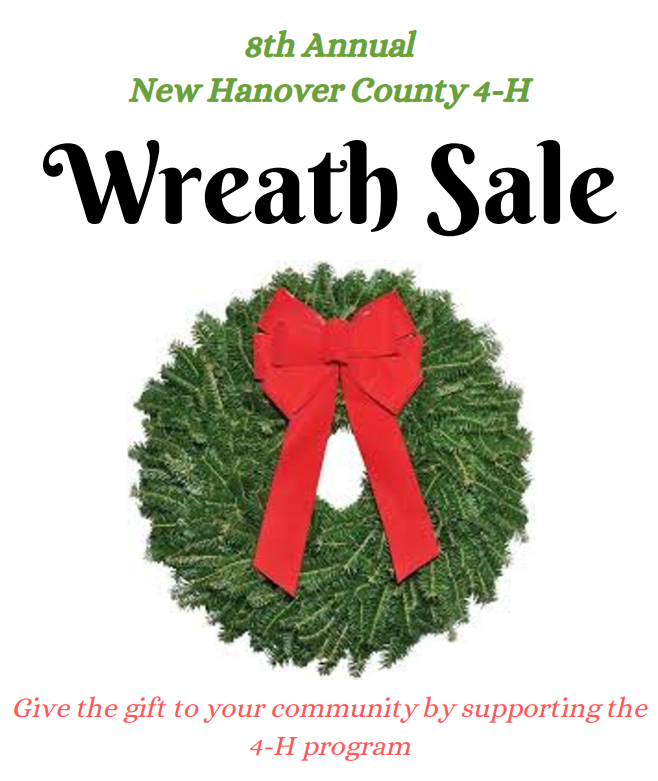 New Hanover County 4-H is proud to sponsor the 8th Annual 4-H Wreath Sale. This annual fundraiser is extremely important to 4-H. 4-H relies on donations and fundraisers to bring youth development programs to young people in New Hanover County. A total of 240 wreaths were sold in 2018. 4-H members have set a goal of selling 300 wreaths during the 2019 season. Proceeds from this fundraiser go towards support of 4-H programs.
During 2018, with the help of over 200 volunteers, we reached 3,200 students through clubs, camps, school enrichment, and special interest programs.
This year, customers will have a choice of three (3) wreath sizes:
Mini Wreath (8") at $15 each
Standard Door Wreath (20") at $25 each

Deluxe Door Wreath (30") at $40 each
 "I think people start getting into the holiday spirit when ordering their wreaths," Michael Erickson, 4-H Teen Leads, President, said. "The fresh fragrant smell of the wreath makes them feel happy. I certainly enjoy the sweet aroma of the wreath."
Wreaths will be available for pick-up at the N.C. Cooperative Extension, New Hanover County Center in the Arboretum on the following dates and times:
Monday, November 25, 2019, from 3 until 5 p.m.

Tuesday, November 26, 2019, from 9 a.m. until 5 p.m.

Wednesday, November 27, 2019, from 9 a.m. until 5 p.m. 
Pre-orders will be taken until November 18, 2019.
Download the 4-H Wreath Sale Order Form.

The wreath sale is an exciting time for everyone. It is the start of the holiday season and sets the tone for a joyous occasion. Give the gift to your community by supporting the 4-H program.
For additional information about the 4-H Wreath Sale or New Hanover County 4-H, contact J. Scott Enroughty, 4-H Agent or 910-798-7660.