4-H "Egg"-splores Embryology with New Hanover County 2nd Graders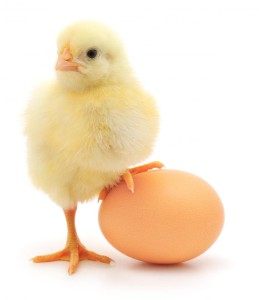 After 21 days of patiently turning and caring for a dozen or so eggs, students eagerly gather around their classroom's incubator as they listen to faint peeps and watch tiny beaks start to peck their way through a tough shell. Excitement fills the entire school as news spreads that the chicks have finally hatched. Initially the new chicks are slimy and wet but after a few hours they have vibrant yellow, fluffy feathers and are incredibly adorable.
Though baby chicks are cute and fun for any age, there is a greater purpose for the 4-H Embryology in the Classroom program for local 2nd grade students. America faces a future of intense global competition and a startling shortage of scientists. According to the 2005 National Assessment of Educational Progress, less than one-quarter of U.S. high school seniors are proficient in science.
To stimulate interest in science and technology professions, New Hanover County 4-H partnered with North Carolina State University to offer Embryology in the Classroom for all New Hanover County Schools. Offered as a portion of the required course of study, this program teaches 2nd grade students about what goes on inside an egg as they witness the embryonic development of a chicken.
4-H Embryology in the Classroom provided over 2,000 students with hands-on activities that fit 4-H's mantra of "learning by doing". Ninety percent (90%) of the students now better relate the academic subject of "science" to real life experiences and almost all of the teachers (over 95%) observed increased science skill and interest in their students.
 "This is a wonderful program that gives these students life experiences they can draw from," shared one New Hanover County teacher.
The New Hanover County school system fully endorses 4-H's Embryology in the Classroom. Twenty-five elementary schools have already signed up for the 2013-2014 school year.
4-H is a community of young people learning life skills under the direction of educators with North Carolina Cooperative Extension – the community outreach organization of N.C. State and N.C. A&T State Universities. More than 218,000 young people between the ages of 5 and 18 participate in North Carolina 4-H activities each year, with the help of 21,400 adult and youth volunteers.
To learn more about becoming involved in the program contact Leslie Wilson, Extension 4-H Agent, at leslie_wilson@ncsu.edu or call the Cooperative Extension office at 910-798-7660. Check out New Hanover County 4-H on Facebook for news, photos, and more.
Was the information on this page helpful?
This page can also be accessed from:
go.ncsu.edu/readext?219983