Extension Master Gardener Program Now Taking Applications!
Posted On

January 4, 2013
To help you decide if you should apply to become a Extension Master Gardenersm volunteer, ask yourself these questions:
Do I want to learn more about growing many types of plants?
Am I eager to participate in a practical and intense training program?
Do I look forward to sharing my knowledge with people in my community?
Do I have enough time to attend training sessions and to serve as a volunteer?
Extension Master Gardeners are part of the volunteer staff of NC State University's Cooperative Extension Service. They support the consumer horticulture education program by providing unbiased, research-based information on horticulture and environmental issues to the gardening public. Becoming an Extension Master Gardener volunteer is an exciting way to learn more about gardening, meet people with similar interests and give back to the local community.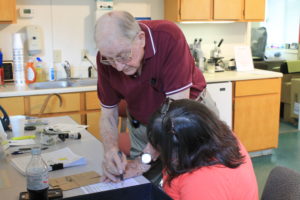 To become a Master Gardener you must attend 40 hours of in-class training. The 2018 Master Gardener Training will begin on Tuesday, January 23rd, and will meet every Tuesday and Thursday from 8:30 a.m. – 12:00 p.m. through Thursday, March 29th at the Cooperative Extension Center at the New Hanover County Arboretum and Gardens.
Four hands-on sessions in support of certain classroom topics have been scheduled from 12:00 p.m. to 1:00 p.m. Attendance is not required at these sessions but is highly encouraged. These will be denoted on the class agenda.
 At the end of training, there will be a comprehensive test that each candidate must successfully complete. Participants are allowed a maximum of two excused absences during the 20-session program.
 Once training is completed candidates are expected to provide 50 hours of volunteer service within one year of the last class, i.e. March, 2019. Twenty-five (25) hours of this volunteer service is to be spent working in the Plant Information Clinic at the Extension office. The hours worked at the Plant Information Clinic provide you the opportunity to work with the Extension agent and more experienced volunteers diagnosing plant-related problems and providing horticulture information to other gardeners. There are more than 20 opportunities to fulfill the remaining hours ranging from working on the grounds of the arboretum, speaking to civic organizations and garden clubs to working at the annual Extension Master Gardener Plant Sale.
If you are interested in signing up for the class please call 910-798-7660 or stop by the New Hanover County Arboretum. We are currently taking applications.